Why would you ride a recumbent?
All Recumbents can be equipped with electro support.
W

hy would you want to ride electrically?
Because it is nice to ride, when you don't have to put in so much effort.

Because you will often cycle more often or further.

Because you will enter those slopes.

Because you are sure to get home even if you get very tired.

Because even if you have very little strength or limitation, you can move again.




Because unlike an electric scooter, you keep on moving and therefore you will be fitter.
W

hy wouldn't you want it:
Because you are proud to do it all yourself.

Because it makes the bike heavier.

Because it may make you lazy and build up less fitness.

Because it costs extra money, even later when a new battery has to be installed.

Some electrical systems are noisy (not ours).

A two-wheeler often becomes more difficult to handle, which increases the risk of falling.

That does not apply to our stable comfortable tricycles.

With a standard bicycle you sit heavier on the saddle because you do not have to put as much force.

As a result, you get saddle pain earlier.

Of course, that does not apply to the comfortable seats on the recumbents.
Want to try it out

?
Ultimately it is a personal choice. It is best to try it out. Make an appointment, because we have easy to ride bicycles ready for a test ride.
The differences

If you decide you want electrical support, there are different motor systems from different manufacturers. We have several systems in-house so you can test which one suits you best. There are differences in eg. the operation, ease of operation, range and price.
I'll describe them here for you here:
Shimano steps, middle motor with power sensor: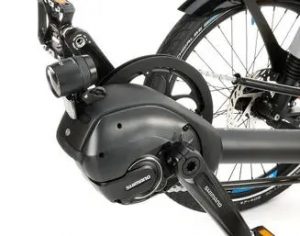 The so-called mid-engine, which comes with the bottom bracket, can therefore be found at the front with a recumbent bicycle. The force sensor measures and amplifies the delivered force. So you have to provide strength, which stimulates your pedaling activity. It has a start-up aid for easier departure. Several variants are available where a large part of the distinction lies in the power that can be delivered. One is better for hill riding than the other.
One option that Shimano offers is an automatic gearbox, in an 8-speed gear hub (manual electronic shifting remains possible).
Shimano Steps is built in by HP Velotechnik  Hase Bikes, Azub and ICE. Surcharge based on brand and model from approx. € 2100.-
Neodrive, hub motor with force sensor:


Here the motor is placed in the wheel. As a result, the chain and sprockets are not burdened extra and it is said that they last up to 4 times longer. In addition, no force is lost in the transmission. In fact, if you go down and brake on the engine, energy can be stored in the battery again. Here, too, the engine measures your powert to amplifie it.
And fun for the trike riders; it comes with a reverse so you can park in reverse. Note that 3 km per hour is actually quite fast for that.
This is a fairly new system and we have little experience with the quality of this neodrive Z20 offered by HP Velotechnik.
HP also offers the Neodrive Z20 RS with which you can ride up to 45 km / h. See the HP Scorpion Fs 26 S-Pedelec
Pedal sensor Motor
This is a system that you can have built-in. There are several variants of it.
Variant 1: As soon as the motor receives the signal that you are pedaling, it will bring the bicycle to a certain speed, independent of the pedaling force. You can choose different speeds, between 10 and 25 km / h.
Variant 2: As soon as you pedal, the motor gives part of its power. You can determine how much of its power it gives via the display.
So moving the pedals is enough for both. It is a suitable choice if you need to be able to continue if you run out of strength or energy at any point. The engine continues to run, even if you pedal without any force. When the motor is not running, it does't produces resistance, you only take the weight with you. The system reacts with a slight delay and can therefore sometimes surprise you. This can be dangerous when you turn a corner. The system does not generate resistance when the engine is off and is cheaper. From about € 1300, – depending on your choice of system. This is for material and includes installation work.
In view of the lower quality of the materials and the problems we have experienced with them, we no longer offer these types of systems ourselves.
Batteries:
All our motor systems work with modern Lithium-ion batteries.
Maintenance of a battery is very important to maintain capacity and life.
Even with optimal maintenance, it is a fact that a Li-ion battery loses capacity with age. Keep in mind that a new battery is a major expense. Think of € 400 or more.
Batteries come in various strengths, expressed in W / h (Watt / hour), the more W / h, the more energy it contains and the further you might go.
Batteries can catch fire spontaneously! takes this into account when loading and storing.
The BOVAG gives some useful tips:
11 USEFUL E-BIKE BATTERY TIPS
The lifespan of a bicycle battery is on average 4-5 years. Depending on how the battery is used. To enjoy the bicycle battery for as long as possible, we give a number of useful tips.
1) Read the manual in advance for specific tips for your battery.
2) Make sure your tires have the correct pressure. The correct voltage ensures less power consumption and a greater range on one full battery charge.
3) Drive off in a light gear and then shift up, this will cost you and your bike the least energy.
4) Do not let the battery drain completely, get it charged before the engine stops.
5) Check after a ride how full the battery is. 40% or less? Then charge it.
6) If you will not be using the battery for a long time, store it with 60% charge. Does the battery run low in the meantime? Then briefly recharges to max 60%.
7) Do you use the battery little? Then top it up regularly. For example, a lithium-ion battery discharges slowly and too low a voltage can damage the battery.
8) Store the (detachable) Bicycle battery in a dry place in the house, preferably no cooler than 15 degrees.
9) Charge the battery at room temperature.
 Note: if the battery is cold, first allow it to reach room temperature
10) Remove the battery from the charger when it is full, this will extend its life (unless the manufacturer specifies otherwise).
11) Only use the original charger, imitation chargers can damage the battery even though they sometimes have the same specification
Range:
It is important to know how far you can get with your battery. But that is unfortunately very difficult to indicate. How far you get with a battery depends on many factors:
The chosen battery. How much capacity the battery received from the factory. You can also choose 2 batteries, for twice the range.

The age of the battery. Over time, batteries get worse.

The condition of the battery. For example, if you forget it for a winter, it can suffer greatly.

The chosen engine: There are differences in the economy of the engine.

The harder the engine has to work, the sooner the battery will be empty. Think about how much help you choose, speed, headwind, stop and start , hills, the effort you put in yourself, forgetting to shift down, but also driving on soft tires and with a dirty chain. The total weight that is moved, bicycle, rider and luggage also plays a role in the load on the engine and therefore on the load on the battery.
As a result, we cannot say how far you can get with the battery on the bicycle, but the manufacturers indicate the following as an indication:
Shimano Steps: 504 Wh
Up to 125 km; at eco support mode, bicycle and rider together 100kg, at 23 km/h in flat land, 7th gear, stop and go every 2 km. The display gives an indication of how far you can still ride.
Neodrive Z20: 612Wh
Up to 145 km
Retrofit motors: you choose in consultation which battery is to be installed.